Vacations are a way to clear your thoughts and get away from the daily grind. The best way to accomplish this is to venture out into the great outdoors. The great state of Colorado offers picturesque scenes and wide open spaces for those who want to get away from it all. Adventure seekers will find a wide variety of trails that range from very easy to advanced for seasoned hikers & backpackers. Below you will find some of the best trails in Colorado.
Glacier Gorge
Located in Estes Park, Colorado, this trail lies within the Rocky Mountain National Park and offers hikers a wide range of beautiful scenery. The trail spans 9.6 miles through terrain that is better for more experienced hikers. Backpacking through Glacier Gorge will take you to an elevation of 10,600 feet.
Boulder Creek Path
This hiking trail has many gorgeous views for photographers and those after the beauty of the Colorado Rockies. The hiking path begins in the flat lands with beautiful rolling plains and ends high up in the mountains. Here you can get a sense of the different landscapes throughout the Boulder area. The trail is a great place for hikers of all skill levels: 7.1 miles in length and a great way for family or friends to spend time together.
Colorado National Monument
If you are visiting the Grand Junction area than you can check out this hike which spans one mile. This trail is a great place for those who want to see some of the natural monuments in Colorado. From this trail you can view the sentinel spire, the pipe organ, independence monument as well as the kissing couple.
Mount Bierstadt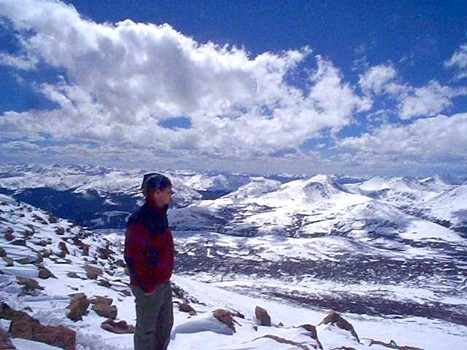 In the town of Dillon, Colorado you will find the Mount Bierstadt trail. Rated a moderate to difficult hike, it spans 6.9 miles. There are various places you'll need to climb steep elevations to hike onward. This is one of the most well known trails for seasoned hikers. A perfect hike and workout for the adventure seeker.
Blue Lake
The true beauty of Colorado lies in areas like this. The Blue Lake Trail, near the city of Nederland, leads into the Indian Peak Mountains. The hike is 5 miles long and rated moderate. It's a popular trail because it ends at one of the most serene alpine lakes in the whole state.
—————————————————————————————————————-
There are many places in Colorado for backpackers and hikers to explore. The trails listed above offer beautiful vistas and some of the more popular routes in the Colorado Rockies. They are certainly among the five best hiking trails within this great state!
If this article gets your legs excited for some good hiking then come with us on our travel clubs next Colorado Rockies Adventure!